Overview
Faraday Road is a major through station. It is served by WaterLine services to Newry, Newry Harbour, James Street, Connolly and Greenslade. 
Platform Layout
| Platform | Service |
| --- | --- |
| Platform 1 | WaterLine services to Connolly, James Street and Greenslade |
| Platform 2 | WaterLine services to Newry and Newry Harbour |
| Platform 3 | Not in use |
Trivia: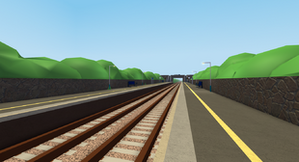 Eden Quay used to look and feel a lot like this station until it was upgraded.
In version 1.1, this station received a major upgrade as voted for by hundreds on the SCR Discord server.
It is possible to hear Stepford Connect from the mainline a few miles down.
The platform 3 is just there with a track just beside the platform that goes nowhere.